Coronavirus live: UK reports 33,869 new situations as more than 100,000 Eng…
11:11
Singapore's health ministry reported 3,486 new situations of Covid on Tuesday, the highest since the beginning of the pandemic, while it recorded a further nine deaths.
A recent surge in infections after the relaxation of some restrictions has prompted Singapore to pause further reopening. It also tightened curbs from last week that limited social gatherings to two people and made work from home a default.
More than 80% of the population has been vaccinated against the virus.
11:05
UK reports 33,869 new situations and 166 further deaths
The UK reported 33,869 new coronavirus situations and 166 deaths on Tuesday.
The official figures showed that 348 out of every 100,000 people have coronavirus.
The weekly case tally was down by 5% on the week before, while deaths were 15% lower.
Updated

10:20
A Republican senator in the US was booed and catcalled when he told a party audience in South Carolina to think about getting a vaccine against Covid-19, Martin Pengelly reports.
Lindsey Graham was speaking at the Summerville Country Club in Dorchester county. Video of his remarks was first published by the Daily Beast.
"If you haven't had the vaccine," the 66-year-old said, "you ought to think about getting it because if you're my age …
"No!" yelled audience members.
"I didn't tell you to get it," Graham said. "You ought to think about it."
"No!" people in the crowd yelled again.
Graham said he was glad he got the vaccine, and said 92% of people hospitalised in South Carolina with Covid-19 were not vaccinated.
"False!" the crowd cried. "Not true!"
The overwhelming majority of hospitalisations and deaths from the coronavirus in the US are among unvaccinated people. The US death toll recently passed 700,000.
Updated

10:18
The World Health Organization has said it is nevertheless reviewing whether Russia's Sputnik V vaccine can be approved by the UN health agency for emergency use against coronavirus, with no decision imminent.
The Associated Press reported that the WHO had issued the clarification after Russia's health minister Mikhail Murashko said the decision had been delayed for administrative reasons. Instead, the WHO said it was nevertheless reviewing data on Sputnik V vaccines from different manufacturing sites. The next vaccine on the group's agenda is one from India's Bharat Biotech, to be discussed this month.
The AP reports:



Approval would be a show of international confidence in the [Sputnik V] vaccine after a demanding review course of action, and could pave the way for its inclusion into the Covax program organised by WHO and meaningful partners that is shipping Covid-19 vaccines to scores of countries around the world based on need.
This is Rachel Hall taking over – please do get in touch with anything we've missed by dropping me a line at [email protected]
Updated

10:02

Libby Brooks
Opposition leaders have challenged first minister Nicola Sturgeon on the "shambles" surrounding the set afloat of Scotland's vaccine passports app, as she apologised for technical problems that meant many people over the weekend were unable to download their certification and led nightclubs and football clubs to denounce the scheme as unworkable.
Scottish Labour leader, Anas Sarwar, also pointed out the apparent inconsistency whereby thousands of visitors to the Cop26 climate conference in Glasgow next month won't be required to show a vaccine passport but will have to show proof of a negative lateral flow test. Sarwar told Sturgeon she was "making it up as you go along".
Sturgeon also told MSPs it was "prudent" to keep in place the remaining mitigations such as confront coverings, especially as worsening weather meant that people would be meeting more indoors and using public transport instead of walking.
The rule that school children must use confront coverings in class is currently under review and parents will be informed "as soon as possible" if changes to the policy are to be made after the half-term break.
Updated

09:20
The head of the International Monetary Fund has said the world economy remains "hobbled" by the Covid-19 pandemic as she revealed her organisation had revised down its forecast for global growth this year.
Kristalina Georgieva, the IMF's managing director, said the most serious obstacle to a complete recovery was the vaccine divide between high and poor nations, and she said the global economy could confront a cumulative $5.3tn loss over the next five years unless it was closed.
Speaking before the IMF's annual meeting next week, Georgieva called on high countries to make good closest on their pledges to proportion stockpiles of vaccines with developing countries.



We confront a global recovery that remains hobbled by the pandemic and its impact. We are unable to walk forward properly – it is like walking with stones in our shoes.

The most immediate obstacle is the 'great vaccination divide' – too many countries with too little access to vaccines, leaving too many people unprotected from Covid.
The Guardian's economics editor, Larry Elliott, has the story:
Updated

08:22
Norway to offer booster Covid jab to over-65s
Norway will soon begin to offer a third measure of Covid vaccines to people aged 65 and older, the health minister Bent Høie said on Tuesday.
Beginning in late October or early November, the vaccine will be offered to those who received their second measure at the minimum six months earlier.
More than 90% of all Norwegians aged 18 and above have now received a first measure of a Covid vaccine, and 85% of adults are fully vaccinated, according to the Institute of Public Health.
Norway uses vaccines by Pfizer/BioNTech and Moderna in its national rollout, which since September has included everyone aged 12 and over.
The number of new Covid situations has dropped steadily over the past two months, and the government removed all domestic social restrictions on 25 September.
Several European Union countries, including Spain and France, launched their own booster campaigns before the EU's drug regulator gave its guidance on Monday, although they vary widely over who is eligible.
Updated

07:40
England: more than 100,000 children off school with Covid

Richard Adams
More than 100,000 children in England are off school with confirmed situations of Covid, according to the fortnightly Department for Education figures just published.
The proportion of children at school has fallen below 90% – worse than this time a year ago – and the number off school for Covid-related reasons is up by 66% – 204,000 off in total for Covid, compared with 122,000 two weeks ago when the last stats came out.
In total 186,000 are off with suspected or confirmed Covid situations.
Updated

07:35
Hospitals may struggle to cope if there is a meaningful surge of Covid in England this winter already if general vaccination method that deaths do not approach the same levels as last year, one of the UK's top epidemiologists told Reuters.
The chief minister, Boris Johnson, is betting on vaccinating children and giving booster shots to unprotected adults to avoid a winter lockdown this year. Johnson has so far locked down England's economy three times since the pandemic began to avoid Covid overwhelming the NHS.
Prof Neil Ferguson, the director of the MRC Centre for Global Infectious Disease examination and Jameel Institute, Imperial College London, said the coming months were uncertain but could put strain on hospitals.
"We're not completely out of the woods however. We may however see a meaningful surge in infections later in the autumn, into the winter," Ferguson told Reuters after the set afloat of the Imperial College London Institute of Infection.



I'm optimistic in almost any circumstance that we're not going to see an overwhelming wave of mortality at this point. The more difficult question is around hospital demands. The NHS is already fairly stressed … there isn't much A&E capacity left.
England has had an average of around 30,000 daily situations since late July. Ferguson said that such continued case numbers was an uncommon pattern, and things could get tougher heading into winter as people use more time indoors.
He said immunity in the population was probably waning instead of growing, but vaccine effectiveness against harsh disease was holding up well.
Nevertheless, many could be hospitalised for a night or two, already if vaccination method they don't need intensive care.
"Every one of those people puts additional demands on the NHS," he said, adding that disguise mandates and work-from-home orders could be needed to reduce hospital stresses already if another complete-blown lockdown was "highly doubtful".



It's much more likely that we just roll back on some limited numbers of measures to try and damp down transmission … things short of shutting the country down.
Updated

06:58
Johnson & Johnson said it had submitted data to the US Food and Drug Administration (FDA) for emergency use authorisation of a booster shot of its Covid vaccine in people aged 18 years and older, Reuters reports.
Last week the FDA scheduled a meeting of its expert advisory committee for 15 October to discuss whether to authorise a second shot of J&J's single-measure vaccine.
J&J said its submission included data from a late-stage study that found a booster of its vaccine given 56 days after the dominant measure provided 94% protection against symptomatic Covid in the US and 100% protection against harsh disease at the minimum 14 days after the booster shot.
The FDA has already authorised a booster measure of the vaccine developed by Pfizer/BioNTech for 65-year-olds and older, people at high risk of harsh disease and others who are regularly exposed to the virus.
Moderna also submitted an application seeking authorisation for a booster shot of its two-measure vaccine last month.
J&J said it planned to submit the data to other regulators, the World Health Organization and national immunisation technical advisory groups to inform decision-making on local vaccine administration strategies as needed.
Updated

06:40
Governments hoping for a global agreement to stop biodiversity loss must put more effort into access to Covid vaccines for developing countries, the UN's biodiversity chief has said.
Elizabeth Maruma Mrema, the executive secretary of the UN convention on biological varied, said the Kunming Cop15 summit, at which governments will try to forge a "Paris agreement for character", was vital for halting the global crisis of species loss.
Arrangements are being made to permit all delegates to be vaccinated in good time for the in-person part of the conference in April next year. But by that stage there must also be a clear plan for making vaccines obtainable to the populations of developing countries, said Mrema.
She told the Guardian:



If we are to continue with negotiations, ensuring that no one is left behind, it method parties can't meet in person if the whole world is not vaccinated.

In the developing world, vaccines are nevertheless not easily obtainable to the rest of the population, and that's a challenge and a worry. We need to vaccinate more broadly, not just for delegates. Otherwise the rule of leaving no one behind will be the opposite – we will have left many behind.
Read the complete story by my colleague Fiona Harvey here:
Updated

06:11
Russia's finance minister, Anton Siluanov, is self-isolating, the head of the upper house of parliament said on Tuesday as Covid situations in the country increased and a record daily death toll was recorded, Reuters reports.
"We wish you to get well as soon as possible and get out the self-isolation regime," Valentina Matvienko told Siluanov, who joined the budget hearings at the upper house of parliament via a video link.
Matvienko did not clearly say that Siluanov was self-isolating due to Covid, days after Vladimir Putin ended his two-week self-isolation after dozens of people in his entourage had fallen ill with the virus.
The finance ministry did not closest reply to a request for comment on Siluanov's health.
Russian authorities have repeatedly urged people to get vaccinated, saying it was the only way to stop the spread of the virus and promising not to impose lockdowns.
In the past 24 hours at the minimum 895 people died from Covid in Russia, the most recorded in a single day since the pandemic began.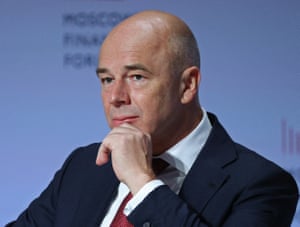 Updated

05:58
Here's a summary of this morning's coronavirus news
Around one in 12 deaths registered in England and Wales towards the end of September involved coronavirus, figures show.
The Thai Red Cross Society has kicked off a vaccination campaign for migrant workers, who have been largely left behind in the broader inoculation rollout.
Boris Johnson said there was no need to deviate from the UK's Covid recovery "plan A", including a return to offices.
Portugal is set to join European countries that are giving booster doses of coronavirus vaccine to everyone over 65.
Senegal has had only a handful of new daily Covid infections so far this week, with only two situations yesterday, the lowest number since the pandemic reached the country.
Japan's Covid case numbers have plummeted to the lowest in nearly a year while other parts of Asia are struggling with surging infections
The British drug company AstraZeneca has requested that the US Food and Drug Administration grant emergency use authorisation for a new antibody treatment that would prevent Covid-19.
Nearly half of English schools have lower pupil attendance this term than normal, with school leaders warning of high levels of disruption caused by Covid spreading among pupils.
A tough winter for the NHS in England will be made harder by growing sickness levels among nurses, nursing leaders have warned. Nurses are experiencing more sickness, including for anxiety and depression, than before the pandemic.
Almost 12,000 women across the UK could have undiagnosed breast cancer after missing out on screening due to the pandemic.
Updated

05:44
Around one in 12 deaths registered in England and Wales towards the end of September involved coronavirus, figures show.
There were 888 deaths registered in England and Wales in the week ending 24 September where Covid-19 was mentioned on the death certificate, according to the Office for National Statistics (ONS).
This is a rise of 4.3% on the past seven days, with 8.3% of all deaths registered in the latest week involving coronavirus. The ONS said the number of registered Covid-19 deaths fell in five out of nine regions in England, with the south-east seeing the biggest drop.
Overall, the number of registered deaths from all causes fell 2.9% to 10,684 in the week ending 24 September, but they remained 15.3% above the average for this period calculated over five years.
Deaths were above the five-year average in private homes, hospitals and care homes, but below the average in other settings.
Updated

05:27
The Thai Red Cross Society has kicked off a vaccination campaign for migrant workers, one of the country's most unprotected groups that has been largely left behind in the broader inoculation rollout.
About 300 workers received their first doses, Reuters reports, as part of a campaign due to run until the end of the month that is initially targeting 5,000 workers.
"The more migrant workers we're able to vaccinate, the better for the Thai people too," said Tej Bunnag, the secretary general of the Thai Red Cross Society.
Official data shows about 2.35 million migrants have permits to work in Thailand, but the International Organization for Migration estimates there are closer to 4 million to 5 million migrant workers.
Many live in cramped quarters and work in industries including construction, manufacturing and seafood industries. Their without of access to healthcare has made getting vaccinations a challenge.
"We're so happy that we will be safe now. We all came in a big group because we're afraid to die," said Pesan, 35, who has lived in Thailand for more than 20 years. "Finally there's someone who's lending us help."
Earlier this year the Thai government closed hundreds of construction sites and prevented workers from leaving their camps for a month after Covid outbreaks in Bangkok.
The Thai Red Cross said in July it had bought 1m doses of Moderna's vaccine, which it planned to administer to medical personnel and unprotected groups and sell to organizations around the country for general dispensing.
Updated

04:52
Boris Johnson on Covid: 'We can stick to plan A and get back to offices'
There is no need to deviate from the UK's Covid recovery "plan A", including a return to offices, the chief minister has said.
In a radio interview with LBC, Boris Johnson said: "We have got to be humble in the confront of character and we have got to recognise that the disease, or a new variant or another pandemic, could always hit us."
But he went on: "The data that I see at the moment is very clear that we are right to stick to plan A, which is what we are on."
That meant "encouraging people to get back to work in the normal way, and I think that's a good thing. For young people in particular, it is really basic … if you are going to learn on the job, you can't just do it on speed."
He warned that those who refused to come into the workplace risked being "gossiped about" by colleagues.
"You have got to be able to come in, you have got to know what everyone else is talking about, otherwise you are going to be gossiped about and you are going to lose out."
However, he admitted that not all his staff were however back in the office. He additional: "The cabinet secretary has written a pretty good letter some weeks ago to everybody telling them to get back to their desks."
Updated

04:32
Portugal to give booster jabs to everyone over 65
Portugal is set to join European countries that are giving booster doses of the coronavirus vaccine to everyone over 65.
Portugal, which has the world's highest vaccination rate with 85% of its total population fully jabbed, started last month to give an additional jab to those aged over 16 with weakened immune systems. It is now extending it to everyone aged 65 and older starting 11 October, the health secretary, Antonio Sales, said late on Monday.
The booster campaigns in wealthier parts of Europe highlight a growing disparity in vaccination rates across the EU. Eastern European countries such as Bulgaria and Romania are falling far behind Spain, France and Portugal and are struggling to reach all adults with the first jab.
The European Medicines Agency recommended on Monday giving people with weakened immune systems a third measure of Pfizer-BioNTech or Moderna vaccine, but left it to member states to decide if the wider population should have a booster.
Updated

Click: See details