Australia Covid news live update: millions in NSW awaken to new freedo…
Good morning everyone it's Matilda Boseley here, ready to dive into the week of news.
clearly, the biggest story today is the reopening of greater Sydney. After 106 days, almost 63,000 Covid-19 situations and 431 deaths, stay-at-home orders were lifted across NSW this morning. This comes after the state reached its meaningful development of 70% of the over-16 population fully vaccinated earlier last week.
Gyms, cafes, restaurants, pools, shops, hairdressers and beauticians can now reopen, people can have 10 people over to their home, gather in groups of 30 people outdoors in public, and travel more than 5km from their home. But these new freedoms are only obtainable to the fully vaccinated and those who have a medical exemption.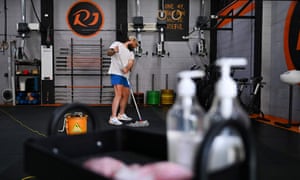 However, unions are concerned that staff members tasked with checking people's vaccination position at the door may be in the firing line for abuse and mistreatment.
The United Workers Union is calling for clearer, binding rules for bosses to protect staff in addition as penalties for non-compliance.
NSW on Saturday reached 90.3% first-measure vaccination coverage for the eligible population, while 73.5% of the adult population are now fully jabbed.
On the final day of the lockdown on Sunday, the state reported 477 new local Covid-19 situations and six deaths.
Meanwhile, in Victoria, 15 regional venues are participating in a "vaccinated economy" trail, whereby they can increase the number of patrons obtainable in the facility providing all can prove they are fully vaccinated.
There are also plans for double-vaccinated Victorians to attend the Melbourne Cup and live music events within weeks when the state hits an 80% double measure vaccination for over 16's. This is expected around November 5.
With that, why don't we jump right into the ("freedom") day?
Click: See details